Me and Sara played VooDooRO and it was very fun!
Poison Effect Rocks?
Poison Effect + Blind Effect = Total Blindness XD
The Sky is blue but in the ground, the water are white O_o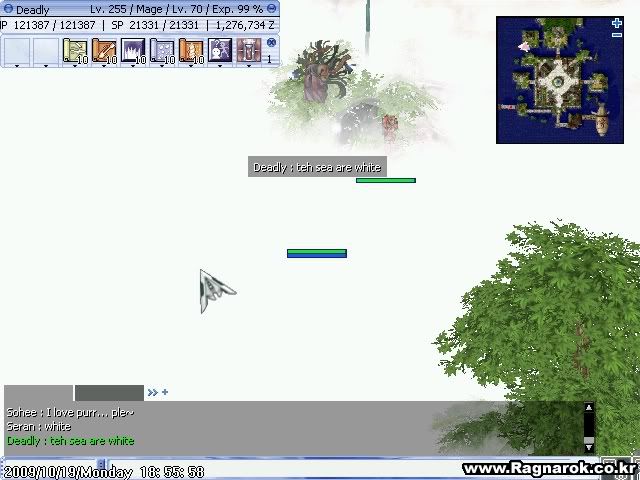 bloop blop bloop... well I like the song!
At least I cleaned it before my old pet was there...We are walking to Geffen
My red suit -_-
We decided to be a 1st job until job lvl 50. Sara(known as Seran) is a Swordsman(woman) and I am a Acolyte(without acolyte, we will DIE)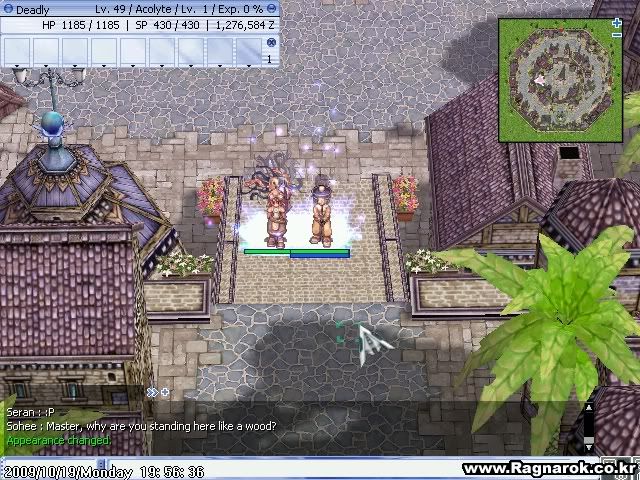 Seran restarted the computer so this is me standing like a freaking wood!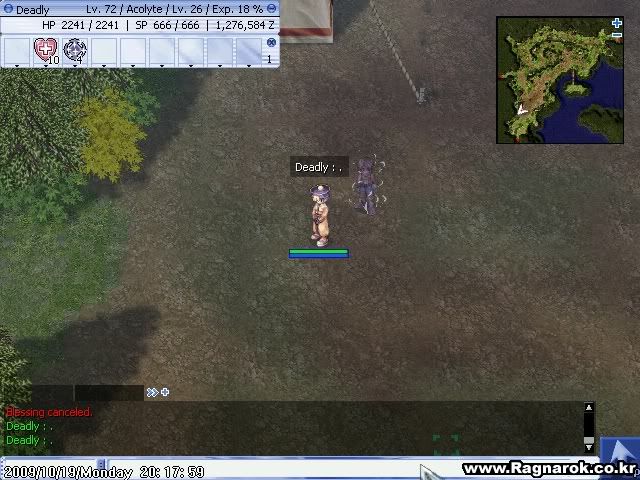 RO in Side View. We are fighting the worst enemies of 1st job.And we were in a scary church. DUN DUN DUN!!!
Thanks for cheering Sohee(Sara's Pet)!
Evil Druid was blocking the camera! Anyway, my pet Kavach was asking who is the cutest and the answer is Poring!
Our ready position!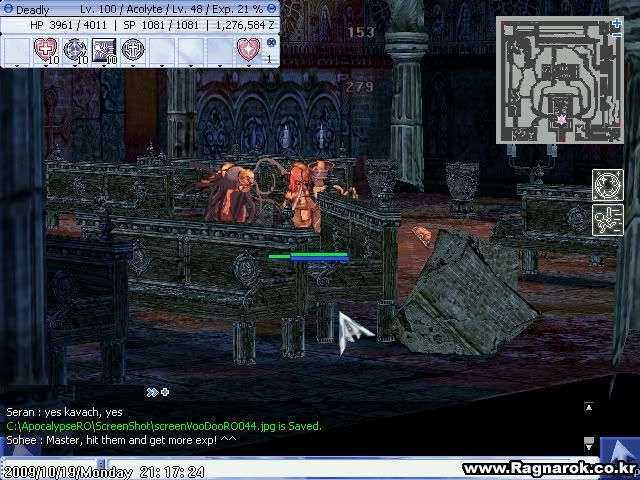 We got a Herb and now we will get a romantic meal!
The road is destroyed...
hmm...This make a scene.. Sohee is saving Sara but is protected by 2 Evil Druids. And I will save sara? Dunno..
aww.. Kavach is cheering me up! I was distracted that I forgot to heal the druids and Sara.
Now there is a new pervert other than my old pet...
We went back to my house. Me and Sara got a sickness when we start the quest called " The Crow of the Fate" and....ACHOO!!... nvm
The only cure is Tropical Tea. However, there is a side effect, CURSE!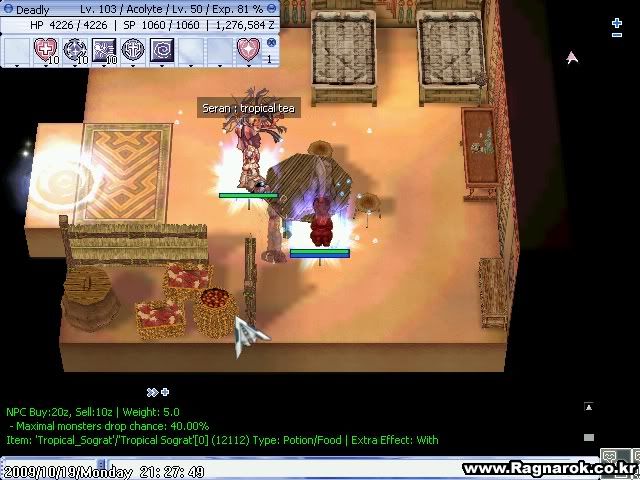 I'm gonna make a banana to cure the Curse.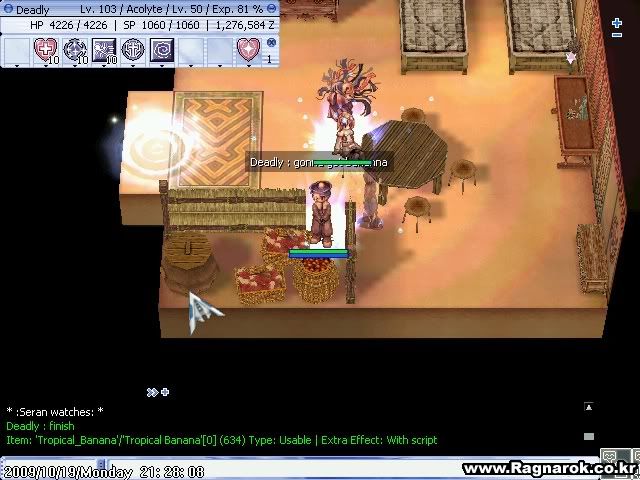 Taking two bananas, nothing special...
oh nemo! lol...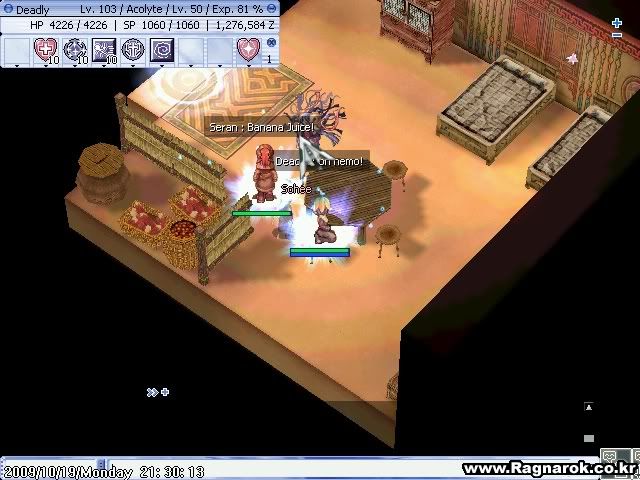 I feel much better after drinking banana juice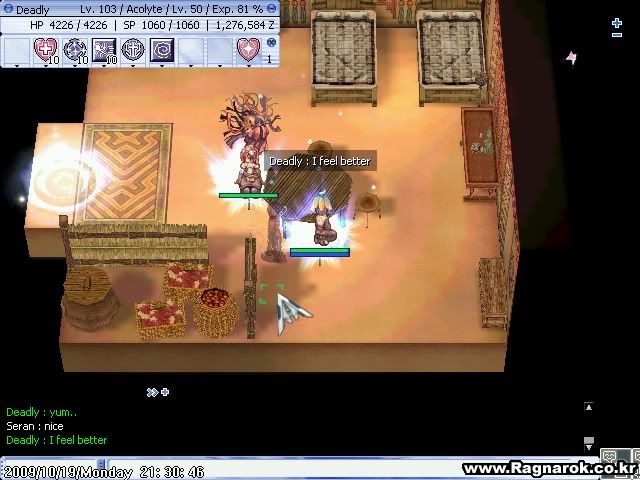 The pervert poring wont talk because he's sleepy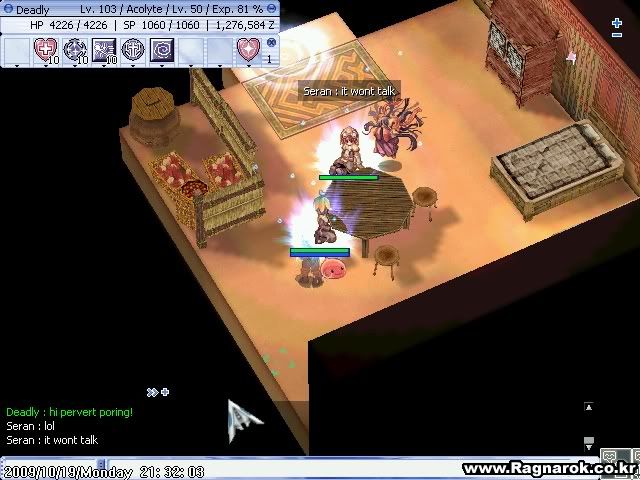 Finish!